Research:

Understand and reduce noise impacts on the marine environment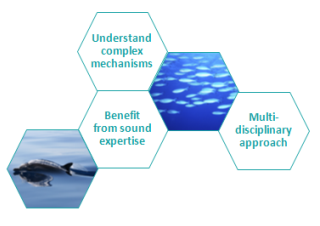 Quiet-Oceans contributes to the understanding of noise impact mechanisms on marine life by participating in collaborative research programmes.
This understanding contributes towards developing new strategies, protocols and technologies that allow optimal monitoring and noise impact reduction in relation to marine mammals and invertebrates.
Our research projects :
– AQUO, european joint research project, 2012-2015 – Aim: to reduce the underwater noise footprint of shipping and thereby better protect marine fauna and flora by putting forth solutions that will influence the design of future naval and civilian ships as well as maritime traffic regulations. Read the press-release.
– Industrial chair of excellence Chorus, 2013-2016 – Aim: to conduct research activities that address the future challenges of measuring, interpreting and using underwater acoustic environments: observing marine ecosystems and assessing the impacts of human activities at sea.
– Irish project Strive, 2012-2013 – Aim: to characterize the acoustic Environmental Status of Irish waters in compliance with the Marine Strategy Framework Directive (MSFD).
Quiet-Oceans' research, undertaken in partnership with French and international research laboratories, is regularly presented at international conferences.
Wave & Tidal 2013: 10 th conference on wave & tidal energy, London, UK;
SEA TECH WEEK 2012: International Marine Science and Technology – Merific project, Brest, France;
ECUA 2012: European Conference on Underwater Acoustics , Edinburgh, Scotland;
ACOUSTICS 2012: Annual Congress of the French Society of Acoustics, Nantes, France;
IMP-MED 2012: 2nd Regional Technical Workshop 'IMP-MED', Tanger, Maroc;
SERENADE 2012: Seminar on Surveillance, Reconnaissance and Environmental Noise by
Passive Acoustics, Grenoble;
IBAC 2011: XXIII meeting of the International Bioacoustics Council, La Rochelle, France;
IMCC 2011: International Marine Conservation Conference, Vicotria, Canada;
IOA 2011: Ambient Noise in Northern European Waters International Conference, Southampton, UK;
IQOE 2011: International Quiet Ocean Experiment Open Science Meeting, Paris;
SAFERSEAS 2011: Safer Seas Conference, Brest;
JST 2010: 8th Scientific and Technical Days CETMEF, Brest, France;
SERENADE 2010: Seminar on Surveillance, Reconnaissance and Environmental Noise
by Passive Acoustics, Brest;
ECS 2010: European Cetacean Society Annual Congres, Strahlsund, Germany;
ESA L2010: Effect of Sound on Aquatic Life Conference, Cork, Ireland;
Contact us to find out about work in process and to develop new research programmes.